A Breakthrough Drug Could Prevent Former Heroin Addicts From Relapsing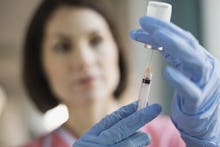 Overcoming an opioid dependency isn't just a matter of detoxing. It's also about finding ways to prevent a relapse. 
There's a drug that can help. It's called extended-release naltrexone: a monthly injection designed to prevent a patient's opioid dependency from relapsing. The injection works by gradually releasing naltrexone — which binds to opioid receptors in the brain and blocks the addictive, euphoric effects of heroin and opioid painkillers — over the course of a month. 
Vivitrol, the brand name version of the drug, was approved to treat opioid dependency by the Food and Drug Administration in 2010. Despite its high cost, Vivitrol has been hailed as the "silver bullet for opiate addiction," according to WGRZ.
Now, researchers at NYU Langone Medical Center have produced the first large-scale study on Vivitrol's effectiveness — and the results show just how well it works. 
Funded by Vivitrol's manufacturer, Alkermes, the study recruited participants involved with the criminal justice system — including people recently released from prison and people on probation or parole. 
As lead author Dr. Joshua D. Lee said in a phone call, it was important to focus on "high-risk populations that are otherwise historically not accessing, for better worse, high rates of medically assisted therapies for opioid use disorders."  
One hundred and fifty-three participants received six monthly injections of extended-release naltrexone, while a control group of 155 didn't get any. Both groups received counseling services and referrals to community treatment. 
When the six months were over, 64% of people in the control group had relapsed, compared to 43% in the group that had used Vivitrol. Among participants who relapsed, those who'd taken Vivitrol used less heroin and other opioids than those who hadn't, and experienced no overdoses. Meanwhile, there were five overdoses among the control group.
"We didn't design the study to show that Vivitrol prevents overdose — we're not making that statement — but it may be suggesting that is, in fact, an effect of Vivitrol," Lee said.
When researchers followed up a year later, they found both groups were using opioids at comparable rates — "suggesting that extended-release naltrexone therapy should be used longer than six months," according to a press release.
The study isn't suggesting Vivitrol is superior to other medical treatments for opioid addiction, like methadone and buprenorphine. Just yesterday, the Obama administration announced efforts to increase the accessibility of buprenorphine, an opioid drug that mimics the euphoric effects of heroin and painkillers, but at weaker levels. 
The hope, Lee said, is that Vivitrol will become more accessible in settings where other medical treatments for addiction aren't accessible. In the realm of criminal justice, methadone and buprenorphine — both narcotics — are sometimes off-limits. 
"Criminal justice and drug control authorities don't generally like the idea of people with opiate disorders being maintained on controlled substances," Lee said. "Vivitrol doesn't have any of that baggage. It's not a controlled substance. It's not a narcotic. You're not dependent on opioids when you're on it."
"It's important to show the criminal justice system it's feasible and worthwhile to use these things," he said.