Who's Hosting the MTV Movie Awards 2016? Kevin Hart and Dwayne "The Rock" Johnson Team Up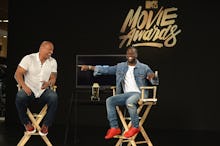 The 2016 MTV Movie Awards will take place on Sunday, April 10, 2016 in Burbank, California. Hosting duties for this year's 25th anniversary telecast will be shared by Dwayne "The Rock" Johnson and Kevin Hart. The two actors should have no trouble with chemistry and rapport since they are costarring in the upcoming espionage comedy, Central Intelligence. The last time the MTV Awards had a co-hosted ceremony was in 2003, when Seann William Scott and Justin Timberlake both helmed the hosting duties. 
Read more: The People's Choice and MTV Movie Awards Are Just as White as the Oscars
While Johnson and Hart have never hosted before separately, they have each been nominated several times for an MTV Movie Award. Johnson was nominated in 2004 for best fight in The Rundown, and in 2009 for best villain in Get Smart. This year, Johnson is a double nominee for best action performance and best hero in San Andreas. 
Similarly in 2014, Hart was a double nominee for best on-screen duo (shared with Ice Cube) and best comedic performance in Ride Along. The following year, Hart was nominated for best comedic performance in The Wedding Ringer, and won a special, non-competitive award for comedic genius.
Watch the trailer for Johnson and Hart's Central Intelligence below, which will be released on June 17, 2016.