This Person Was Brought to Tears by the Oculus Rift — And the Story Is Going Viral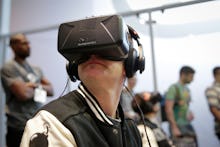 We live in a time where you can sit on your couch, strap on a virtual reality headset and be moved to tears. 
On Tuesday, a Reddit user shared a story in /r/Oculus that paints this exact picture.
"Thank you, Oculus, for bringing me back to a time and place to which I will never be able to return," the redditor wrote, describing their experience with the virtual reality headset Oculus Rift. 
The time and place referenced is Christmas in New York City. What's meaningful for this particular user is that it brings them back to a time before their mother started showing signs of schizophrenia, according to the post. Before they moved to the Midwest on their own. Before they felt alone.
It has been years since I experienced the comfort of a familiar place, that sense of being safe with people you trust and love. It is hard to remember what it felt like when my family was in one piece, before I moved out and lived on my own. I haven't had a sense of what it is like to have a mother in so many years.
This redditor's "eyes welled with tears" because the experience tugged on their nostalgia strings. 
To my right was an inconspicuous doorway aligned with an unassuming shop window. The sign: "Teuscher Chocolates"
A virtual reality experience doesn't always need to wow users into oblivion; it just needs to make a connection with them, and often that means rooting the experience in the user's reality. The comments on this thread make that evident.
One user suggested capturing "precious memories" and vacations in 360 degrees. Another wished they had a 360-degree camera instead of just a smartphone to capture their travels in Cambodia. Others suggested recording family dinners, kids' first steps and really anything you'd capture with your smartphone in the hopes of looking back in a more immersive way to create a scrapbook that isn't confined to two dimensions. 
Virtual reality content is inundated with boring, nauseating and just straight-up bad content. If a simple virtual walk through Rockefeller Center can draw such a soul-stirring experience, it's evident that complexity isn't key — making a connection is. In other words, the hardware is just half the battle. Content is king. 
Read the Reddit post in full below: