'Star Wars' Fans are Naming Their Babies "Kylo" and "Rey" Because Why Not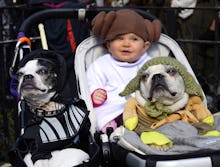 Star Wars fever is officially being passed on to the next generation: According to BabyCenter.com's baby name data, the franchise's latest installment — Star Wars: The Force Awakens — may be behind a major bump in babies with names so far this year.
Read: Is Luke Skywalker Gay? Mark Hamill Opens Up About 'Star Wars' Characters' Sexuality
Kylo, the name of the latest Star Wars villain (played by Adam Driver in The Force Awakens), shot up on the list of names for boys, gaining 67 percent from 2015, according to BabyCenter. Rey, the name of the film's heroic scavenger (played by Daisy Ridley), gained 82 percent on the girls' list, rising 11,000 spots from 2015 to 2016.
Star Wars classics Leia and Lucas have also seen steady gains, and even Jedi has gained some traction on the charts. But should we really be surprised that Star Wars is inspiring baby names? After all, people were reportedly naming their babies after Instagram filters last year. Anyways, may the force be with you, Star Wars babies.