The Little Girl Who Cried Over Obama's Term Ending Just Got to Meet Her Idol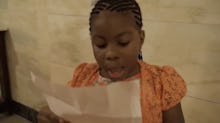 Sometimes crying gets you exactly what you want.
In February, Caprina D. Harris posted a now-viral video of her granddaughter Kameria hysterically crying at the thought of President Barack Obama leaving office soon. 
"But he can only serve two terms and his time is up," Harris says, trying to reason with Kameria, adding that there will be another president soon. 
"I'm not ready for a new one!" Harries wails.
While there's no skirting the democratic process, there is this: This week, Obama's biggest fan and her family were invited to the White House to meet the president and the first lady.
A video posted to the White House Instagram account on Tuesday shows a montage of clips, from the original tearful footage, to Kameria reading a letter she wrote to the president, and finally the joyful White House visit.
In her letter, Kameria told the president, "I want to meet you before you leave the White House."
Done and done.
Obama had also responded to the viral video of Kameria in February, writing in the comments, "Caprina, tell her to dry her tears, because I'm not going anywhere. Once I leave the White House, I'll still be a citizen just like her. And when she grows up, she can get involved right alongside me. In the meantime, I'll keep an eye out for her letter, and we'll always get to celebrate our birthdays together!"
Read more: This Video of a 106-Year-Old Woman Meeting the Obamas Will Melt Your Heart