Did Beyoncé Get a Surprise Visit From Hillary Clinton on the Set of Her New Music Video?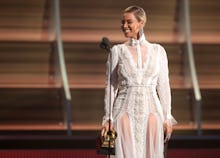 Presidential hopeful and Broad City guest star Hillary Clinton allegedly paid Beyoncé a surprise visit while the singer was filming a music video in Los Angeles, a source told Us Weekly. It's unconfirmed if the former secretary of state is going to have a cameo in whatever Beyoncé is filming, but Clinton returned to campaigning the next day.
The two have previously praised each other. "I want to be as good a president as Beyoncé is a performer," Clinton had said during an Iowa town hall, according to Us Weekly. In New York last May, Beyoncé and other stars like Meghan Trainor attended a Clinton fundraiser, according to Bloomberg.
Read more: Beyoncé New Video: Rumors Suggest Mothers of Trayvon Martin, Michael Brown Will Appear
On March 27, Beyoncé was rumored to be including the mothers of children who were killed by police, such as Trayvon Martin, in one the music videos for her upcoming album. The rumors followed the release of her hit "Formation," which celebrated black culture.