Did Swaggy P Cheat on Iggy Azalea? D'Angelo Russell's Recording of Nick Young Goes Viral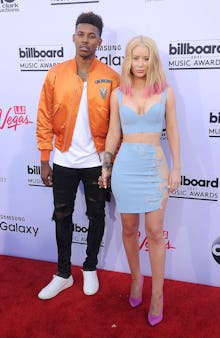 Rapper Iggy Azalea and Los Angeles Lakers player Nick Young (aka Swaggy P) have become the latest celebrity couple to have their dirty laundry aired out on social media this week. The betrothed couple may be hitting a snag in their relationship after Young's teammate D'Angelo Russell leaked a recording of Young talking about stepping out on his Australian rapper fiancée. 
Read more: Kehlani Hospitalized in Apparent Suicide Attempt After Cheating Rumors With PartyNextDoor
Swaggy P can be heard discussing a sexual interaction he had with a 19-year-old woman (he's 30) after a night of clubbing over the summer. When Russell asks Swaggy P if he's ever made sexual advances on model Amber Rose, he simply said, "No, she knows my girl." 
Azalea tried to get in front of the situation online. "Hmmm I see D'Angelo Russell is trending..." Azalea tweeted Wednesday. "I actually liked his film. Thanks bro." According to a New York Post source, there have always been trust issues in the relationship and "now there's no trust."
On Tuesday, 20-year-old R&B singer Kehlani was hospitalized after an apparent suicide attempt following a very public controversy with two of the men in her life, NBA player Kyrie Irving and Drake's prodigy, PartyNextDoor. Kehlani's incident caused a disgusting bout of trolling on the trending hashtag #StayStrongKehlani following her suicide attempt, with social media users including the hashtag in posts calling the singer a "tattooed slut."
If putting someone's relationship status on blast or recording a teammate admitting private information is bad, the media's speculation about whether a relationship has always been on the rocks, or whether cheating is involved, only feeds the beast. 
But it isn't solely the fault of the media or fans inquiring into the lives of their favorite celebrity couples — PartyNextDoor and Swaggy P surely added fuel to the fire, at least in part. PartyNextDoor posted an Instagram photo (since deleted) of him holding Kehlani's hand in bed, while Swaggy P posted questionable comments about his girlfriend on Twitter:
As of press time, Young has not responded to the controversy.