This Haunting Video Will Make You Question What All Your Likes Are Really Worth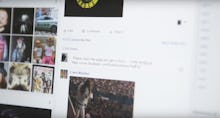 If you, in the dim hours of solitude, have ever asked yourself why one selfie got more likes than another, you know that the obsession with likes and faves is a pervasive spiritual sickness. What is a like worth anyway?
A new documentary called Like, produced by the Intercept's video-journalism project Field of Vision, asks just that.
Like follows a group of Bangladeshi click farmers, low-paid individuals who like and fave links, photos and videos for money. It's a haunting look at the hidden mercenaries bolstering Western brands and celebrities in the name of America's most holy mission: to sell you shit.
Like asks you to interrogate the underlying value of all that attention — to ask yourself what your likes are worth, or why you place so much value in them. But the film also calls into question a system that is trying to sell products to an army of underpaid clickers on the other side of the planet.
"There's a belief that if you're not Western, you aren't going to purchase anything, so you're not valuable and therefore you're cheaper to buy," Garrett Bradley, who spent a week in Bangladesh shooting the film, said in a phone call. "If we step outside of the internet and apply that philosophy to the material world, it becomes increasingly problematic."
Watch the full, 10-minute documentary below.