'Star Wars' Actor Mark Hamill Has Been Wearing the Same Green Sweater Since the '80s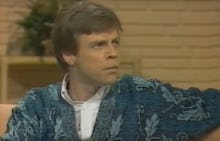 When you find your lucky sweater, you never let it go. 
Need proof? Look to Mark Hamill who played Luke Skywalker in the original Star Wars.
Hamill found his in a groovy ivy-green-patterned v-neck 30 years ago. He has held on ever since. 
He rocked it for a 1983 interview discussing the Star Wars sequel during his Skywalker prime.
And decades later in 2008 while rallying students to vote for President Obama at Point Park University. 
Thanks for bringing this fascinating discovery to our attention, Paul:
Read more: 'Star Wars' Fans are Naming Their Babies "Kylo" and "Rey" Because Why Not