Beyoncé's New Album Release Date, Collaborators and Rumored Track List Leak Online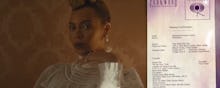 The Beyhive is currently at BEYCON four. More news about her rumored sixth studio album has leaked to the net. Fake or not, in the name of all that is bootylicious, it is juicy. 
A tweet that first hit the web earlier this month — well before the suspicious Vevo and iTunes activity started the world chasing every single shred of a rumor — has come around again, shared by Blavity. 
The alleged release confirmation, headed with the Columbia Records and Parkwood Entertainment (Beyoncé's management company) logos, could easily be a fake. This exact kind of Columbia fake has circulated before. But whoever released this one did a great job making up Beyoncé titles, and the information it suggests is too rich to just ignore. 
The release claims Queen Bey's album is dropping this Friday and will feature collaborations with — believe it or not — Nicki Minaj, Frank Ocean, Mariah Carey and Adele, who's listed on a song called "Lemonade Taste."
Needless to say, the news has many in the Beyhive rethinking all of their life choices, even though the April 1 release date does raise some red flags. Is a Beyoncé fan using the date to play us all for fools?
Further complicating the speculation, Elle magazine is currently counting down from 25, posting one Beyoncé picture every hour on their Instagram. It's likely leading up to something (a cover, or perhaps an interview?), but for those sleep-deprived individuals who have been on #beywatch this past week, it's like a sign from the heavens.
Sleep with Beyoncé's "Formation" on loop under your pillow — maybe fans will wake up April 1 with something big enough to actually break the internet once and for all.