International Transgender Day of Visibility 2016: 7 Inspiring Quotes About Transitioning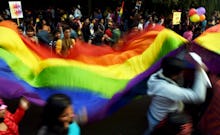 Thursday is the sixth International Transgender Day of Visibility, dedicated to bringing awareness to the accomplishments by the transgender community and against cissexism and transphobia. It's the sister day to Transgender Day of Remembrance, but instead of mourning those the community lost, it celebrates its empowerment. 
This year's theme of More Than Visibility calls for "direct action against transphobia against the world," according to Trans Student Educational Resources. While not everyone wants to be visible, it is still a valuable tool in fighting for equality and justice for the community.
Helping to increase that visibility are several influential advocates of the trans community, whether it be actors, writers or models. More visibility equates to more understanding and less violence. 
Read more: Statistics Show Exactly How Many Times Trans People Have Attacked You in Bathrooms
Below are seven inspirational quotes to think about this International Transgender Day of Visibility and forward: 
Laverne Cox, actress
"I do feel like there's preoccupation with [transitioning]. I think the preoccupation with transition and with surgery objectifies trans people and then we don't get to really deal with the real lived experiences. The reality of trans people's lives is that so often we're targets of violence. We experience violence disproportionately to the rest of the community... when we focus on transition we don't get to talk about those things." — Cox to Katie Couric in 2014
Janet Mock, New York Times best-selling author of Redefining Realness
"We have different experiences, but trans women have experiences that do parallel with the whole fabric of what womanhood is. Embracing trans women, listening to their stories, enriches what womanhood is. It expands it and makes it even better." 
Andreja Pejic, model
"We're human beings, and this is a human life. This is reality for us, and all we ask for is acceptance and validation for what we say that we are. It's a basic human right." — Pejic to Vogue 
Caitlyn Jenner, Olympic gold medalist
"I'm saying goodbye to people's perception of me and who I am. I'm not saying goodbye to me because it's always been me." — Jenner to Vanity Fair
Jazz Jennings, star of I Am Jazz docu-series