Kim Kardashian and Emily Ratajkowski Share Nude Selfie, Make Statement About Sexuality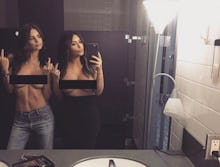 If you thought Kim Kardashian West was done breaking the internet, think again: Not only is the international reality star flashing the world once more, but she's doing it with the help of supermodel Emily Ratajkowski. The photo, which will certainly be viral by the time you're finished reading this, comes with a powerful message Ratajkowski wrote about women and sexuality.
"However sexual our bodies may be, we need to have the freedom as women to choose when and how we express our sexuality," Ratajkowski wrote on Twitter. Kardashian West's caption on Twitter followed suit from her previous March nude selfie with a black censor strip placed above her nipples: "When we're like... we both have nothing to wear LOL."
Read more: Kim Kardashian West Breaks the Internet Again With New Nude Photo
The photos also appeared on both celebrities' Instagram accounts — the photo-sharing app has much stricter policies regarding women's breasts, which the two ladies are taking a clear stand against.
Ratajkowski posted the photo on the app with an even stronger appeal to the trending hashtag #FreeTheNipple.
"We are more than just our bodies, but that doesn't mean we have to be shamed for them or our sexuality," she wrote. However, instead of using the above hashtag, Ratajkowski shared another symbolic tag: #Liberated.
Both women represent at least a part our generation's stringent beauty standards, which place unnecessary burdens on women of all shapes and sizes. However, it appears Kardashian West and Ratajkowski are certainly aware of their influence when it comes to women breaking the double standard behind being comfortable in one's skin.