The 8 Most Bizarre Breakup Stories From the Museum of Broken Relationships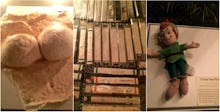 On an especially windy night in Los Angeles, visitors milled about the hipster-chic space of the Ace Hotel's Upstairs Bar to gaze at relics from failed relationships. 
The items were displayed on pedestals, one after the other — a fake breast bust, a carefully made paper bouquet, a plush Peter Pan doll. They were all featured in a preview for "The Museum of Broken Relationships," a Croatian project that is officially debuting in Hollywood in May 2016.
Launched by artists Olinka Vištica and Dražen Grubiši?, who dated for four years before breaking up in 2003, the goal of the exhibit is to commemorate the demise of both romantic and platonic relationships. The items are anonymously submitted, along with a brief description of their significance and the dates of the failed relationship. By submitting the relics from their failed relationships, the owners of the objects hope to tell their stories and hopefully, in the process, release their pain. 
Here are some of the weirdest and most heartbreaking stories we saw during the preview. (If you think you can top some of the breakup tales below, you can donate your own objects and stories through a submission process on the museum's site.)
Perhaps the weirdest and most heartbreaking object, the accompanying text explains the story behind the breast bust: "So, after three years together, my husband bought fake, sculpted female breasts which were, of course, larger than mine, and that was the time of our biggest relationship crisis... He made me wear them during sex because they turned him on. I was disappointed and because of those sculpted, fake breasts I left him for good."
A São Paulo couple moved into an apartment together and then awkwardly continued living there after their break-up. The owner of these Playboy magazines left them behind and missed his last date with his former girlfriend so he could pick them up. 
"I would love to see this on display since it shows how silly a man can get over some nude pics," he wrote.
This woman decided to stuff her wedding dress into an old dill pickle jar after the end of her seven-year marriage. "My husband told me that he felt stuck and that he 'probably' didn't love me anymore," she wrote. Take that, failed marriage.
These cassette tapes are the result of a polyamorous relationship that went awry after the sender's boyfriend starting paying more attention to another woman. He decided to move across the country and wanted both partners to come with him, but she, the sender, refused. After they broke up, the boyfriend and his new girlfriend offered this as a gift to the sender, to thank her "for being awesome."
The woman who owned this paper bouquet of flowers was dating a man who disappeared often. So she decided to create a paper bouquet out of poems they both read together. When she showed up at her boyfriend's workplace to deliver the bouquet, he wasn't there. 
"I called you," the woman wrote. "'I'm just leaving work,' you said. 'Where?' I asked. 'Because I'm here.' You hung up the phone." 
The woman who owned this lung transplant patient manual broke up with her partner after he received a double lung transplant. 
"I'm so happy for his new chance at life," she wrote. "I'm very sad that I won't be a part of it."
The woman who submitted this ripped pay phone receiver wrote that it was given to her by her drug addict ex. 
"One day, as a gift, he gave me a phone with wires hanging from it," she wrote. She found the gesture "charming." 
When he was 25, the man who bought this Peter Pan plush toy purchased it as a reminder "to always keep the little boy inside me alert, awake and alive," he wrote. 
When he reached his 50th birthday, he came to a chilling realization: that you can't stay young and hopeful forever. "The boy is lost to me," he wrote.