2016 Election Poll Results: Where the Candidates Stand Week of March 28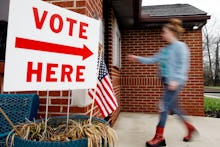 It's that time of the week, politically aware readers: 2016 election poll update time. With one primary contest scheduled for Friday (North Dakota's Republican caucus) and another slated for Tuesday (Wisconsin primary), the candidates are campaigning hard.
Read more: 8 Dos and Don'ts for Arguing With Your Relatives About the 2016 Election on Facebook
According to Bloomberg, GOP frontrunner Donald Trump is struggling with his "presidential demeanor" going into Wisconsin, attempting to spin his misogynistic rhetoric toward women as "jest." His recent remark that women who get abortion should be punished will likely prove difficult to dismiss as a joke, but whether will hurt his chances remains to be seen.
In Wisconsin, Texas Sen. Ted Cruz leads Trump by an average of three percentage points. A poll conducted by Marquette University Law School between March 24 and March 28, however, puts Cruz 10 points ahead of Trump, 40% to 30%. Ohio Gov. John Kasich, meanwhile, polled 21%. 
Nationwide, Trump leads the Republican candidates, with an average of 42% support to Cruz's 32% and Kasich's 19%, according to RealClearPolitics. There will be 28 delegates at stake in North Dakota and 42 at stake in Wisconsin. 
On the Democratic side, national frontrunner Hillary Clinton leads Vermont Sen. Bernie Sanders in Wisconsin by a slim margin — 48% to his 47% — according to RealClearPolitics. Marquette's recent poll, however, puts Sanders four percentage points ahead of Clinton, with 49% support to her 45%. 
Despite Sanders' recent success in Western states, Clinton remains ahead in national polls, with an average of 51% of her party's vote to Sanders' 42%; delegates are up for grabs in Wisconsin. 
According to the New York Times, Trump has 735 of the 1,237 delegates necessary to win the Republican nomination, while Cruz is second in line with 461 and Kasich is third with 143. Clinton has 1,243 of the Democrats' requisite 2,383, over Sanders' 980.