Is 'Joy' a True Story? The Truth Behind David O. Russell Film, Starring Jennifer Lawrence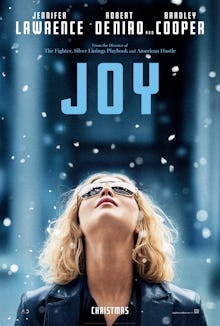 David O. Russell's 2015 film Joy stars Jennifer Lawrence as Joy Mangano, a self-made millionaire entrepreneur who invented the Miracle Mop and went on to become a fixture on the Home Shopping Network. The film was nominated for a Golden Globe, and Lawrence was nominated for a Golden Globe and an Oscar, though she lost both to Brie Larson. Joy and Lawrence are currently up for two MTV Movie Awards, for best female performance and best true story. 
With that said, a lot has been made about how much creative license the filmmakers used in producing something that is ostensibly a biopic.
Read more: Melissa Rivers Plays Late Mom Joan Rivers in 'Joy' Starring Jennifer Lawrence
Fittingly, Joy opens with the line, "Inspired by the true stories of daring women. One in particular." The film was adapted from Joy: The Unofficial Biography of Miracle Mop Inventor, Joy Mangano by Fergus Mason — the "unofficial" nature of the biography is salient due to the subject. 
According to Vanity Fair's Katie Calautti, the real-life Mangano was very enigmatic. "Mangano has fostered what appears to be a painstakingly curated and protected image while remaining firmly in the public eye," Calautti wrote. "[And] information about her life prior to creating the first prototype of the Miracle Mop in 1990, though the bulk of the story in Joy, is particularly hard to come by."
As such, there were plot holes to fill. The film tells the story of a divorced Long Island mother of two who overcomes life obstacles by inventing a mop — the success of which becomes the progenitor of entrepreneurial career.
Lawrence told Time that Joy is "50% the story of Joy Mangano" and the remaining half was "David's imagination and different daring women that have inspired him."
Time's Eliza Berman notes the differences between the real Mangano and the fictionalized version. Though some are subtle (the Mangano actually had three children), Berman also takes note of the egregious deviations, such as where Mangano met her first husband, as well as Mangano's education.
Then again, the creative license, as opposed to a carbon copy depiction, was purposeful. "I spent about probably 100 hours on the phone with [Mangano]," Russell told NPR. "We got a very strong impression of her ... I didn't want to meet her for a long time because I didn't want to feel beholden ... [Then] I asked for her blessing to tell my own fictional fable in cinema. And she said yes."