This Woman Perfectly Shut Down a Sexist Dude Who Tried to Question Her Baseball Knowledge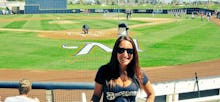 Blogger and baseball lover Megan Brown is used to dealing with sexist messages from men who question whether she really likes sports. But instead of ignoring the latest condescending message from a dude who didn't believe her credentials and asked her to rattle off the names of every baseball team in the NL East, she returned a perfectly punny response.
Read: The Internet Is Freaking Out About a Sexist Christmas Family Photo
"When meeting or dating guys it's common for them to attempt to quiz women to test if they 'really' are sports fans," Brown told Uproxx in an email. "This guy was someone I met off of a dating app, we had started texting and he asked me that question. It seemed pretty condescending plus it was something so basic it was kind of insulting. Instead of responding with the teams (first instinct) or ignoring, I decided to have a little fun."
Brown shut down the dude by listing each team in pun form — while simultaneously telling him off for his question. Brown tweeted a screenshot of the conversation Tuesday, and it's racked up more than 4,000 retweets. As for the dude? He seems to have gotten the message.
"He STILL hasn't responded," Brown told Uproxx. "That said I don't know if I would either at this point."