Dashcam Video Shows Florida Police Officer Punching Suspect in the Face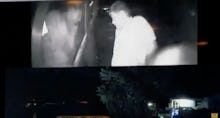 A former deputy sheriff in Seminole County, Florida, was charged Tuesday with one count of misdemeanor battery after dashcam video emerged showing him punching a suspect in custody in the face during an arrest on Jan. 12, local television station WFTV reported. 
The footage shows then-Deputy Michael O'Connor reaching into a patrol vehicle, and punching a handcuffed Jonathan Lynch who can be seen kicking the patrol door with his feet and repeatedly demanding a glass of water. The video shows two perspectives, one from inside the patrol car and another from several feet outside.
Read more: If We Want to Throw Body Cameras on Every Police Officer, We're Going to Need Better Laws
The punch did little to deter Lynch who had been taken into custody after allegedly attacking his mother. 
"You will lose," Lynch is shown saying, immediately after O'Connor struck him. "You will lose in this fight, unless you Taze me."
During a press conference Tuesday, Seminole County Sheriff Donald F. Eslinger said his department began to immediately investigate claims of police abuse after being made aware of the allegations on March 18. During that time, O'Connor was placed on administrative leave and ultimately resigned on March 24. 
"We have a strong and long-standing relationship with the community we serve, and my commitment is to always be transparent with, and accountable to, our residents," said Eslinger, WFTV reported. "O'Connor's actions were not just a violation of policy and law, they were also contrary to our agency's core values." 
Watch the full video here: