Elizabeth Warren Goes on a Tear Against "Loser" Donald Trump on Colbert's 'Late Show'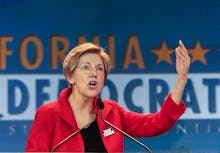 Elizabeth Warren may have rejected calls to seek the presidency in 2016, but there's one new role she's taking on this campaign season: Democratic attack dog.
Appearing Wednesday on The Late Show With Stephen Colbert on CBS, the senator from Massachusetts continued her withering criticism of Republican presidential frontrunner Donald Trump, whom she slammed as a "loser" and "serious threat" during an impassioned tweetstorm last week.
Read more: Elizabeth Warren Unloads on "Loser" Donald Trump in Scathing Tweetstorm
The scourge of Wall Street told Colbert that voters shouldn't buy Trump's populist image, arguing that he's simply a tycoon out for himself.
"Donald Trump is looking out for exactly one guy, and that guy's name is Donald Trump," Warren said. "So, look— he smells that there's change in the air, and what he wants to do is ensure that that change works really, really well for Donald Trump."
Resurfacing an attack leveled by former GOP presidential hopeful Marco Rubio, Warren dismissed Trump's business acumen, depicting him as a son of privilege.
"This is the deal: You gotta kind of look a little closer at Donald Trump, because this is his main claim to how it is that he says he's qualified to be president of the United States," she said. "He says in business, he 'wins, wins, wins.' Well the truth is, he inherited a fortune from his father."
Asked whether calling Trump a "loser" perpetuated a culture of playground politics, Warren rejected the notion.
"This isn't name-calling," she said. "This is taking the credential that he claims he's running on — and that is his business success, and saying, 'No, Buster, we're not buying that.' He is not a business success. He is a business loser.
"We have an economy that's in real trouble, but when the economy is in this kind of trouble, calling on Donald Trump for help is like if your house is on fire calling an arsonist to come help out."
Warren contrasted the GOP race with the contest between Democratic hopefuls Hillary Clinton and Bernie Sanders, a race in which Warren remains publicly neutral.
"Democrats are out there fighting over the things that affect America's families," she said, citing the two candidates' spirited debate over tackling college debt.
"God bless — that is the right place to have the discussion," Warren said.
Watch her discuss the campaign below: