Tesla Model 3 Event Livestream 2016: How to Watch Tesla Motors' Big Reveal Online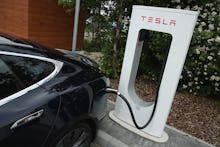 Elon Musk's SpaceX campus in Hawthorne, California, will be hosting Thursday night an invitation-only debut of the Tesla Model 3 to 800 guests, according to the International Business Times. The event will also be livestreamed at 8:30 p.m. Pacific on Tesla's website.
Despite the VIP unveiling, the car is the general public's smaller, more affordable edition of the Model S, which costs $70,000, according to the Los Angeles Times. A single electric charge will power the car — which starts at $35,000, give or take $10,000 for those with appropriate tax breaks or rebates — for 200 miles. 
Read more: Elon Musk Says the Future of Self-Driving Cars Is Coming to Your Door
Some say Tesla rides on the success or failure of the Model 3. "If they can do it at that price point, and with that range, they have the potential to pull in a lot of people," Rebecca Lindland, Kelley Blue Book's senior analyst, told the Los Angeles Times. "They already have captured some of the wealthiest car buyers [with the Models S and X]. This could be the car they bring to the masses."
The car isn't even in production yet but excited customers have already queued outside of Tesla showrooms to be the first to order it. There are estimates that 100,000 orders will be made on just the first day, according to the Los Angeles Times. 
Its critics point out that not only are customers of the previously released Model X still waiting on their cars to arrive, but the affordable electric car market will only be more crowded. One competitor example is the similarly priced upcoming Chevy Bolt.