Kyrie Irving Breaks His Silence on Kehlani's Suicide Attempt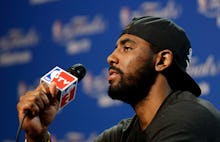 Throughout the week, Twitter users have taken it upon themselves to try to untangle the tragic love triangle that exists between Kyrie Irving, Kehlani and PartyNextDoor. It started with a PartyNextDoor Instagram post that showed him holding Kehlani's hand while in bed, with a caption that read, "After all her shenanigans, still got the R&B singer back in my bed." 
It drove an enormous backlash of slut shaming and cyberbullying Kehlani's way. Subsequently, she allegedly attempted suicide. 
Irving finally broke his silence on the matter with a series of deleted tweets, captured by Cleveland Sports Talk and shared by ESPN. In them, Irving explains why he decided not to speak out and seemingly sends some pointed words PartyNextDoor's way.
Irving also clarified he was not dating Kehlani when the photo of her in bed with PartyNextDoor surfaced — so all the accusations toward Kehlani that flooded Twitter were not only invasive and cruel, but also baseless.
Even considering Irving's post, we still cannot claim to understand everything that's happening between these three people. Nonetheless, Twitter largely applauded the way Irving handled the situation. Especially when comparing to the way Chris Brown spoke to it yesterday, calling Kehlani's suicide attempt an example of her "flexing for the gram" to get attention.