With the "Kiss It Better" Video, Rihanna Is Now the Queen of Nipple-Baring Tops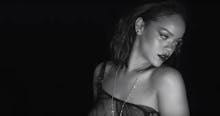 Rihanna really doesn't like to wear a bra, and given that she's far too busy living her best life and absentmindedly grinding on Drake, who can blame her? Thanks to RiRi, we are now being treated to a master class on how to wear a sheer top without giving a shit about anyone seeing our nipples. 
The latest example of that: Her new video for her single "Kiss it Better."
Read more: Rihanna Reveals Her Greatest Regret — and It Involves a Bedazzled Thong 
In the black-and-white cinematic ode to her body looking better than yours ever will, she goes full sheer, slinking around on the ground under a see-through sheet before donning a black lace top with (you guessed it) no bra. 
The video is one more chapter to the long novel we've titled Rihanna Doesn't Care If You See Her Breasts, which should be read in every Intro to Women's Studies class starting today until the end of time. 
Rihanna's love affair with sheer clothing all started on a wintry February night in Paris in 2014, when she attended an after-party for the designer Balmain wearing a black leather skirt with a completely sheer fishnet top. 
Days later, she did it again for a Jean Paul Gaultier fashion show, wearing a simple black lace top with nothing else underneath. To shield her breasts (we're sure she was freezing), she wrapped herself in a black and white fur, as one does. 
Looking back on it, though, we really should have seen this onslaught of nudity coming, since she did tell Vogue in February, "If I'm wearing a top, I don't wear a bra. If I'm wearing a bra, I just wear a bra."
That June, Rihanna cemented her status as the only woman alive who can pull this look off when she attended the CFDA Awards draped in Swarovski crystals and little else in a dress designed by Adam Selman. Her breasts were left exposed under a veil of itty bitty crystals for her onlookers to appreciate. 
To an earnest red carpet reporter, she remarked: "My tits bother you? They're covered in Swarovski crystals, girl." And the world turned once more. 
It was pretty quiet on the nipple front for Rihanna until roughly a year later in May when Rihanna was spotted wearing an architectural black sheer top to a Met Gala after-party. To the actual Met Gala that year, she wore a show-stopping yellow coat draped trimmed with fur. So naturally, she needed to go sheer and unbothered after-hours. 
Two months later in July, when the video for "Bitch Better Have My Money" debuted, RiRi was at it again. Outfitted among looks like fur corsets and oversized pageboy hats was a latex dress that was basically see through. 
She wore the look while torturing a man, which is exactly what a dress like that should be used for. 
Then in February, Rihanna's love of sheer was used to its best ability in the music video for "Work," co-starring an impossibly thirsty and frustrated Drake. Cast in a violet glow, Rihanna twists her hips while wearing a sheer, sparkly lilac shirt. Yet again, her nipples are surrounded by sparkles, as they should be. 
And now, just a month later, we have what we'd consider to be Rihanna's pièce de résistance in nipple-baring wear. For almost the entirety of the "Kiss It Better" video, Rihanna's (pierced!) nipples are on display under a nearly clear sheet and a black lace negligee. The internet, as expected, was thrilled.  
At the end of the video, RiRi gives us just a final glance, takes off her shirt, turns her back and walks away, leaving the internet in shambles. 
Rihanna, we now pronounce you Queen of the Exposed Nipple.