'Final Fantasy XV': Release Date and Where You Can Play the Demo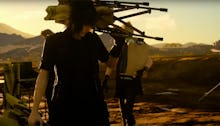 After what feels like 15 years of development, developer Square Enix has finally announced a projected release date of Sept. 30 for the highly anticipated Final Fantasy XV, coming out for PlayStation 4, and Xbox One (though a PC version may be on the way as well). In case you're not able to wait that long: PlayStation 4 and Xbox One owners can download the Platinum Demo of the game for free. 
News of the beloved franchise's next platform game wasn't the only thing announced Wednesday in Los Angeles during Square Enix's Final Fantasy: Uncovered event: A new mobile game, Justice Monsters Five will be available on iOS and Android devices.
Square Enix is also getting back into the movie business, announcing Kingsglaive: Final Fantasy XV, a CGI feature-length film featuring voice acting from Breaking Bad's Aaron Paul, Game of Thrones' Lena Headey and Lord of the Rings' Sean Bean. The film, much like the mobile game, will complement the game, and the plot will overlap with Final Fantasy XV's world.
Square Enix is also venturing into online series, and plans to produce a five-part anime series called Brotherhood Final Fantasy XV to be released before the game's release date; the first episode of the anime series is already uploaded.
Watch the trailer the Final Fantasy XV below, which features Florence and the Machine singing a cover of Ben E. King's "Stand By Me."
Read more: PlayStation VR 2016: Price, How to Buy and Preorder Sony's Virtual Reality Headset