The Sushi Burger Is the Latest Food Hybrid That's Actually Couched in Lies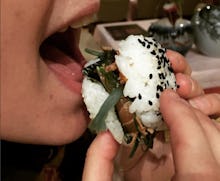 It's the most beautiful food baby in the world — as Mashable reported, the sushi burger phenomenon is real, if also apparently the most difficult to eat. "Vegan food creatrix" Sam Melbourne posted the below photo to her Instagram feed, spotlighting a teriyaki shredded "chicken" burger, in which the chicken is actually jackfruit and nestled, along with avocado, pickled ginger, vegan mayo and red cabbage, between rice buns. 
Truly, this is the burger of the future.
Read more: That Tab at the End of Chopsticks Has a Mind-Blowing Purpose
"Use a fork or chopsticks to eat it!" Melbourne wrote in the caption. "This burger can be messy to eat, so if you aren't up for the challenge, simply enjoy this as a sushi bowl or a rice ball. Namaste."
As Mashable reported, Melbourne's is far from the only sushi-burger beaut on Instagram. Here's another mock-chicken wonder, courtesy of @Superfoodsushi. 
Here's another that comes in its own convenient wrapper, to help consumers contain the sprawl. 
This spice-dusted delight appears to contain real fish, like your favorite hand-roll but a hamburger.
And another alluring sushi puck for your viewing pleasure:
But, fair warning, this is what begins to happen when you eat a sushi burger like a sandwich. It's all an illusion, but a pretty one for sure.
As Mashable reported, this phenomenon is hardly new, although Instagram does offer it a viewing platform it didn't have in 1987, when Japan's MOS Burger introduced the first burger served on rice buns. 
The artform will only continue to evolve. Behold, the sushi burger, miracle of sandwich and seaweed.