This Ridiculous VR Experiment Might Make You Poop Your Pants in Terror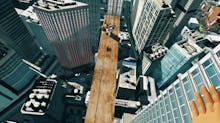 People have wept, nearly puked and now they may shit their pants for the sake of virtual reality. 
Gaming company Bandai Namco is opening up a virtual reality arcade center in Tokyo from April through October, according to VR Scout. It's hoping to lure in human guinea pigs to test out the HTC Vive virtual reality system and Bandai Namco games, one of which looks especially terrifying.
In a teaser video for one of the HTC Vive experiences, Fear of Heights Show, users have to rescue a cat on a wooden plank 60 stories above the ground. The promo video itself may be dramatized, but the premise definitely has pants-shitting potential. 
One guy nearly topples over from a standing position. HTC saw this coming, Ars Technica reports. In its booklet of Health and Safety Warnings, HTC warns:
"It is important to remember that simulated objects, such as furniture, that may be encountered while using the product do not exist in the real world, and injuries may result when interacting with those simulated objects as if they were real, for example, by attempting to sit down on a virtual chair."
Or, for example, by falling on your ass because you thought you were walking the plank like a modern-day pirate. At least someone can laugh at our foolishness.