US Women's Soccer Players File Wage Discrimination Complaint With the Federal Government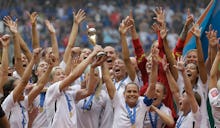 In a stunning turn of events, five players with the U.S. women's soccer team filed a wage discrimination complaint with the federal government on Wednesday, citing years of underpayment compared to their male counterparts, according to the New York Times.
The five women — 2015 World Cup champions and 2012 Olympic gold medalists Carli Lloyd, Becky Sauerbrunn, Alex Morgan, Megan Rapinoe and Hope Solo — named the U.S. Soccer Federation in the complaint, saying they spoke on behalf of the rest of their teammates as well.
It was a long time coming. Sexism and the gender wage gap have been major topics of conversation in recent years, with women in the U.S. making, on average, 79 cents to each dollar a man makes.
But with U.S. soccer, the gap is even more stark. The women's team has outperformed the notoriously mediocre men's squad by almost every conceivable metric — winning multiple World Cups and Olympic medals — yet when it comes to pay day, you'd think it was the other way around.
Case in point: According to the ESPN, the U.S. women's team generated almost $20 million more in revenue than the men's team in 2015, but made four times less money. The New York Times adds that the women's versus men's pay structure is such that a male player earns $5,000 in a friendly match if they lose — which they often do — and up to $17,625 for a win.
Meanwhile, a player on the women's squad is paid $1,350 only if the team wins. Women get no bonuses for losses or ties.
The pay disparity exists on an international level as well. The 2014 World Cup champion German men's team made $35 million from FIFA for their success, while the 2015 champion U.S women's team made a comparative pittance at $2 million. That works out to less than six cents on the dollar, according to CNN Money.
Critics have long bemoaned this gap, but this marks the first time it will be considered before the U.S. Equal Employment Opportunity Commission. 
"The numbers speak for themselves," goaltender Hope Solo said in a statement, the New York Times reported. "We are the best in the world, have three World Cup championships, four Olympic championships and the USMNT get paid more to just show up than we get paid to win major championships."
h/t New York Times