'Unbreakable Kimmy Schmidt' Cast Shares What Their Personal "Peeno Noir" Would Be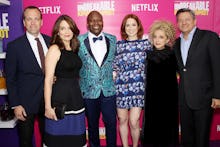 No star from Unbreakable Kimmy Schmidt's first season shined quite as brightly as Tituss Burgess. The actor, who plays appropriately named Titus Andromedon, became an Emmy-nominated sensation after stealing every scene he was in in Netflix's beloved sitcom.
Read more: 'Unbreakable Kimmy Schmidt' Shines Through Its Own Darkness
Perhaps most significantly, his improvised original song "Peeno Noir" — "an ode to black penis," as Titus described it — became a viral hit.
To promote the second season, hitting Netflix on April 15, Burgess announced he'd be selling his own personal wine — Pinot by Tituss — online. "Pinot makes things fun," he wrote in his Instagram video announcement's caption.
But why should Titus and Tituss corner the market on character-branded vino? Mic hit the purple carpet in New York City for Unbreakable Kimmy Schmidt's season two premiere to talk to the stars of the show (and a few Orange Is the New Black cast members, too) about what brand and type of wine their characters would sell.
Kimmy, played by Ellie Kemper
Type of wine: Rosé
"Even though I personally don't like sweet wine, I feel like it'd be very sweet," Kemper explained. "What's something that rhymes with rosé? Rosie Girl? Just off the top of my head, just spitballing!"
Lillian, played by Carol Kane
Type of wine: Red
"I think a dark, dark, dark red," Kane said. "With a little kick to it."
Jacqueline, played by Jane Krakowski
Type of wine: White
Krakowski had to run to the Great White Way after a quick photo op on the carpet, but wine wizard Burgess was happy to take a guess at what Jacqueline's vino would be. "It would be, like, a $200 bottle of wine," he explained. "I feel like she would have a nice white. She might think red has too much sugar in it."
Gretchen, played by Lauren Adams
Type of wine: Non-alcoholic
"Non-alcoholic, chamomile wine with melatonin that you drink right before bed so you have a nice, peaceful sleep," she explained. "With one of those modern labels that's really simple. Or maybe it would have the bunker door, like an artful artisan drawing. If anyone at a wine company wants to contact me about making this, you can find me on the internet."
Boo, played by Lea DeLaria
Type of wine: Pinot noir
"It would be Pussy, I think," DeLaria said of her Orange Is the New Black-branded wine. "Red Pussy. Pussy Red. I like Pussy Red."
Leanne, played by Emma Myles
Type of wine: White
"She's hardcore, she grew up on a farm," Myles said of her Amish-raised Orange Is the New Black character. "I'm going [with] a bitter, sparkling white."
Black Cindy, played by Adrienne Moore
Type of liquor: "Some mix of a bourbon, hooch and whiskey"
Moore opted out of wine entirely and went for a Southern hard alcohol blend. "[It would] get you — I can't use the word I'm thinking of, but that word that comes before 'up.' You know, that f-word that you throw in there?" she explained. "As we say down south, 'crunk.' But Cindy's Crunk doesn't sound right. So maybe it's Cindy's Crank. 'Did you get some of that Cindy Crank?'"