Surgeons Have Completed the First HIV-Positive Organ Transplants — Here's Why It Matters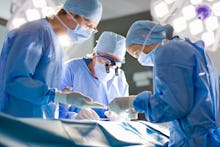 Every year, around 17,000 kidney transplants and 6,000 liver transplants are performed in the U.S. But there was something special about two recent kidney and liver transplants performed at Johns Hopkins University Medical Center.
The kidney and liver came from a deceased donor with HIV, and they were transplanted into patients who also have HIV. They're the first HIV-positive organ transplants since the 2013 repeal of an outdated law banning people with HIV from donating their organs.
"This is an unbelievably exciting day for our hospital and our team, but more importantly, for patients living with both HIV and end-stage organ disease," Dr. Dorry L. Segev, professor of surgery at the Johns Hopkins University School of Medicine, said in a statement. 
"For these individuals, this could mean a new chance at life."
"For these individuals, this could mean a new chance at life." — Dr. Dorry L. Segev
Decades in the making: In 1988, an amendment to the National Organ Transplant Act banned people with HIV from donating their organs. HIV-positive organs can save around 1,000 patients with both HIV and organ failure each year, according to the Human Rights Campaign — but because of the amendment, the law forced those life-saving organs to go to waste.
"We were throwing away organs that were infected with HIV, that could be used to help people with HIV — because of this antiquated law," Segev told NPR in February.
Twenty-five years later, things finally changed. The HIV Organ Policy Equity Act, or HOPE Act, was passed in 2013, allowing for HIV-positive organs to be transplanted into patients with HIV. In February, Johns Hopkins announced it would be the first U.S. hospital to perform this type of transplant. 
Now those first transplants are completed — and the recipients are doing well, according to the L.A. Times.
The kidney recipient, who became infected with HIV 30 years ago, is reportedly already home. The liver recipient, who's had HIV for 25 years, is still in the hospital, but the new liver is "functioning extremely well," said Dr. Christine Durand, an infectious disease specialist at Johns Hopkins, according to the L.A. Times.
"We're encouraged by these first transplants," Durand said.
So is the HIV community. "I think it's great news — I think it's actually long overdue," Mark Milano, an HIV educator at ACRIA, said over the phone on Thursday. Milano, a long-term survivor who's been living with HIV for 35 years, will soon turn 60 — and like many older adults with HIV, his kidney function is on the decline.
"Every year I watch their capacity lessen a little," Milano said. "My doctors all say there's a very good chance, in next decade, I'll need to go on dialysis." Milano could eventually be in need of a kidney transplant. He would be "happy to accept one" from a donor with HIV.
Getting a new organ is never easy. Organ donation waitlists are long. Absurdly long. More than 121,000 people in the U.S. are currently waiting for lifesaving organ transplants, according to the American Transplant Foundation. Every day, 22 people die, on average, because they didn't get an organ transplant soon enough. 
Historically, it's been even harder for people with HIV. 
"For a long time, HIV-infected individuals did not have access to organ transplantation," Dr. Oladipo Alao, medical director at Amida Care, said in a phone interview on Thursday. "Historically, there were concerns about life expectancy." 
With the advent of antiretroviral therapy, people with HIV are now able to live as long as people without HIV. Before that — when average life expectancies were shorter — some people with HIV were told they didn't qualify. It still happens, Milano said, recalling a young HIV-positive man he met last year who died because he couldn't get a lung transplant.
"The idea that we're not worthy of organs because we're going to die pretty soon is old-school thinking," Milano said. "We should be on the list with everybody else, and have access to those things." Having organs available to him from people with HIV, Milano said, just "expands the pool" of potential matches.
"The idea that we're not worthy of organs because we're going to die pretty soon is old-school thinking." — Mark Milano
"It is likely that HIV-positive patients on waitlists for a liver or kidney will be transplanted faster than the typical waiting time for an HIV-negative organ," Dr. Amy L. Friedman, chief medical officer and executive vice president at LiveOnNY, said in an emailed statement.
The number of people with HIV in need of organ transplants will only continue to grow, according to Sharen Duke, executive director of AIDS Service Center NYC.
"This is a true medical milestone for people living with HIV and AIDS," Duke said in an emailed statement. "As other recent medical advancements are keeping those with HIV and AIDS living longer, transplants are increasingly needed."
With HIV-positive organ transplants, everyone benefits — including people who don't have HIV. Imagine you're HIV-negative, and you're on a waitlist for a new liver — one spot behind a patient with HIV. If the patient ahead of you is now able to accept a liver from an HIV-positive donor, it means you can move one spot ahead, too. 
"It benefits people with HIV, as well as people who don't have HIV, in terms of accessing organs," Alao said.
The next step: Getting people with HIV to register to become organ donors.
"Any addition to the current pool of donors is extremely valuable and will directly increase the number of lives saved through donation and transplantation," Friedman said.
Milano, for one, is excited to sign up. 
"I've never been able to check the organ donor box — I'd love to be able to do that," he said. "I'd love to be able to offer my organs to somebody else."