"Fuck Donald Trump," YG and Nipsey Hussle's Track, Is the Ultimate Political Party Anthem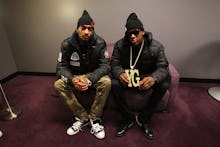 If you've ever said "Fuck Donald Trump" but couldn't figure out to fill out the rest of the 16 bars to turn it into a club banger, you've officially missed your chance. 
Two of mixtape rap's finest, Compton's YG and Los Angeles' Nipsey Hussle, have dropped a flawless lyrical exercise in Donald Trump bashing. Titled "FDT," an acronym for "Fuck Donald Trump," it calls out the Republican frontrunner for all the bigotry and hate speech he's used to fuel his rise to power. 
YG kicks it off with the lines, "I like white folks, but I don't like you," and it just gets better from there.
Before the funky bassline struts in, the track kicks off with a snippet of audio from 19-year-old Tahjila Davis, talking to USA Today about getting kicked out of a Trump rally at her own school. 
"They're afraid we're gonna say something or do something, but we just wanted to watch the rally, and to get kicked out because we're a group of black people is really crazy," Davis says in the audio clip. 
Read more: Killer Mike Delivers a Powerful Speech Introducing Bernie Sanders at Fundraising Event
That injustice, which is mirrored by dozens of other examples of racially motivated violence at Trump rallies, forms the foundation from which all the rest of YG and Hussle's raps flow.
"Don't let Donald Trump win, that nigga cancer," YG raps. "He can't make decisions for this country, he gon' crash us."
"He got me appreciatin' Obama way more," he adds as an afterthought, a sentiment that appeared again in a Instagram photo he shared Wednesday.
Several other artists have tried to use the hot topic that is Donald Trump to vault their names into the conversation — some serious, some hilarious. Few tracks have managed to blend both so effortlessly to shame the candidate. 
"If we let this nigga win, God bless the kids," YG and Nipsey rap together in the final verse. It's as a good a sentiment to unite this country as any. God bless hip-hop, and God bless us all.