Justin Trudeau Is a Yoga God in Resurfaced Photo, Continues to Be PM We Want in Our DMs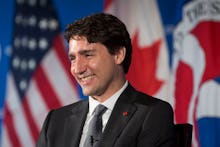 Canadian Prime Minister Justin Trudeau decidedly will not be running for president of the United States, but he is stretching his way into hearts across the world. Trudeau was snapped casually fitting in some yoga three years ago, and the photo has resurfaced this week during a viral internet discussion on Trudeau's general charm, specifically during a time when the American political arena is tumultuous to say the least. 
The move Trudeau was employing atop a wooden desk in the midst of what appears to be a political gathering is no beginner's yoga move, however. The pose is called Mayurasana, and takes typically at least a month to learn with dedicated efforts, according to yogis familiar with the pose, also called the "peacock pose." 
"Mayurasana is more than just an impress-your-friends-at-parties yoga pose," SubtleYoga.com noted. "It is one of the original Hatha Yoga practices — one of the first 15 poses ever written down."
Perhaps not so coincidentally, Trudeau's father Pierre, Canada's former prime minister, was similarly photographed mid-Mayurasana near the shoes of Nahannie River in 1970. That photo has also seen the light of day once more, and will now live forever on a little place called the world wide web, along with his son's consistently winning personality. 
Of course, social media was loving Trudeau's yoga skills, and found incredible ways to imagine what else the world leader might be able to do some stretches on: