Amber Rose's New Emoji App MuvaMoji Trolls Bill Cosby, Kanye West Like Only Amber Rose Can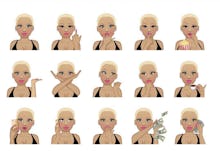 Not one to be outdone, Amber Rose has released her very own emoji app. Called MuvaMoji, it's basically her version of Kim Kardashian's Kimoji, putting a zeitgeisty and often R- to X-rated spin on the tiny texting icons that have taken the country by storm. Now, instead of texting our friends that ambiguous face made up all of lines to express our resigned discontent with the situation, we can send a pissed-off Rose to communicate our feelings. This is a really big day for mankind.
Read more: Amber Rose Posts Topless Picture on Instagram to #FreeTheNipple
"Hey you guys, it's Amber Rose and I got a new app, MuvaMoji," she says in her Instagram announcement. "Download it on iTunes and Android and have fun, Rosebuds. Love you guys!"
MuvaMoji offers a number of adult twists on emoji classics. As evidenced below, there's a penis pump, a pack of birth control pills, a BDSM-inclined man, a thong, a cock ring, even a weed-friendly update on the oft-employed 100 emoji. All these things and so much more.
There's also a whole lot of Rose herself, taking selfies, making it rain, eating popcorn and flipping the bird.
She also takes on some of the biggest social issues in the pop culture today, including Ke$ha's legal battle with alleged rapist Dr. Luke and fellow alleged rapist Bill Cosby's innocence (or lack thereof).
With her gloved nurse MuvaMoji, Rose may or may not be taking a swipe at former flame Kanye West. One Instagram user posted a composite grid of Rose's emojis, asking "what you bout to do with that glove?" in the caption. Another user suggested "Kanye's ass" in the comments, probably referencing Rose's semi-recent Twitter jab in which she asked the rapper if he was fussy because she was no longer available for butt stuff in bed. 
Which should surprise exactly no one. Rose is a master internet troll — why should her app be any different?