They're Letting People Pre-Order a Tesla Model 3 an Hour Early — Here's How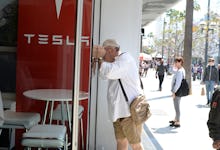 Elon Musk has announced on Twitter that the Tesla Model 3 will be available for pre-order Thursday starting at 10:30 p.m. Eastern – an hour earlier than previously announced, in an effort to "ensure servers don't overload." 
Reservations for Tesla Model 3 can be made on the official Tesla Motors website. If you prefer seeing the presentation first before making any monetary commitment, Musk has noted that the "unveiling" live stream will still commence on the Tesla website at 11:30 p.m. Eastern.
Read more: Tesla Model 3 Specs You're Going to Want to Know About
The cost to reserve your Tesla Model 3 varies depending on which country you're submitting your order from, but will approximately equate to $1,000. Though the electric car costs $35,000 in total (half the price of their previous model), there are tax subsidies and incentives, depending on in which state you file your taxes. Production on the Tesla Model 3 is expected to begin in late 2017.