"Kiss It Better" Video: Rihanna Drops Sultry and Stunning Video for 'Anti' Sex Anthem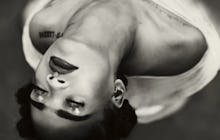 As promised, Rihanna has released the music video for "Kiss It Better" on Thursday at noon. Not only is the song one of the highlights from her latest album, Anti, but the music video, shot by Craig McDean, ranks among the most sensual and hypnotic in Rihanna's expansive and eclectic videography.
Read more: Rihanna Reportedly Rented Out an Entire Hotel Floor So She Could Smoke Weed in Peace
Before the video was officially made available on Vevo, Rihanna uploaded three black and white images on her Twitter and Instagram, previewing a topless Rihanna sporting a negligee.
The video opens with the teaser Rihanna uploaded Wednesday morning, of her lying down beneath a silk cloth and thrusting dice along her pelvis. Thereafter, the sparse video set allows Rihanna to be the sultry focal point; a dim spotlight illuminates her as she writhes on the floor.
As the video progresses, Rihanna strips more and more of her clothes off.
Until she is completely topless.
Watch "Kiss It Better" below: