Anonymous Just Declared War on Angola With a Massive Cyberattack on Its Government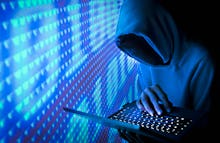 After 17 youth activists in Angola were sentenced to jail on Monday for allegedly rebelling against President José Eduardo dos Santos, Anonymous retaliated by shutting down a litany of official government websites. 
The group of activists, which includes prominent Angloan rapper Luaty Beirão, were arrested in June for reading subversive material in their book club about non-violent resistance. Dos Santos is the second president of Angola, a former Portuguese colony, coming to power in 1979. 
Anonymous viewed the sentencing as an affront to democracy, with the collective's Portuguese branch announcing its hacking spree via Facebook. 
Read more: Anonymous Just Made Good on Its War Against Trump in One Massive Cyberattack
"Anonymous from all over the world, join the struggle for democracy in Angola," the post read. "Those who risk their lives for a better project of society deserve all our support!"
The post included a list of targeted websites. 
Fifteen hours after the announcement, many of the sites were still down.
Critics of dos Santos argue he has both engineered an increasingly autocratic government and inequitably distributed the country's lucrative natural resources, chiefly oil and diamonds. 
A Forbes report from 2013, which indicated the president's daughter, Isabel dos Santos, has assets amounting to $3 billion, was a blow to his reputation, as Angola remains beleaguered by poverty. 
"[Isabel] has quickly and systematically garnered significant stakes in Angola's strategic industries — banking, cement, diamonds and telecom — making her the most influential businessperson in her homeland," Forbes noted. 
The Angolan government has yet to respond, but Anonymous has already achieved something big by bringing international attention to an otherwise-ignored story.