Amazon's Trojan Dash Button Eradicates All Bullshit Excuses, Makes Safe-Sex a Press Away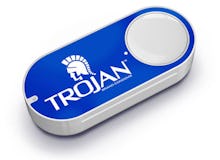 We're heading to an age in civilization where we'll be able to smack a button for condoms to arrive at our doorsteps: without ever having to leave the sheets. Amazon is attempting to become the greatest wingman of all time with its recent expansion of Dash buttons, the ordering-made-easy plastic buttons exclusive to Amazon prime members for five bucks a pop. 
The Dash buttons now feature an extensive array of home goods, including paper towels, snacks, hygienic products and flavored drinks. The new brands involved in the Dash button Amazon expansion include "Brawny, Charmin, Clorox, Doritos, Energizer, Gain, Honest Kids, L'Oreal Paris Revitalift, Lysol, Peet's Coffee, Playtex, Purina, Red Bull, Seventh Generation, Slim Jim, Snuggle, Starbucks, Trojan, Vitamin Water and others," TechCrunch reported Thursday. 
What's even greater about these fast and simple ordering machines is that they wind up being completely free, as Amazon credits prime accounts $5 toward their first order using Dash buttons. Think of it as a rebate toward making life a little bit simpler. 
Now, ordering those products we tend to forget on our grocery store lists will be a click away, along with a constant reminder to order up whenever we're running low on necessities: from napkins to detergent to condoms.
The 30 new brands now included in Amazon's easy ordering Dash button program will likely give those companies an added boost not only in profit, but loyalty. "What we've heard from customers is they want more," Amazon's Dash director Daniel Rausch told the New York Times. "Brands have been clamoring to be in the program."
Of course, you'll still have to wait for the products to be delivered — so if you plan on having a rendezvous underneath the sheets, hit that button hard, and ahead of date night. 
But as we continue to head into the age of digital convenience, in which packages will likely be received within an hour or less via drones, who can say what role Dash buttons will have in general consumerism? For now, the devices are certainly going to make shopping easier for many — and they may be one of several buttons which Amazon's customers can push in the bedroom.