Two Filmmakers Are Traveling Around the World to Help Bands Craft Stunning Music Videos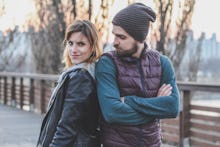 Even though MTV stopped focusing on music years ago, music videos are still powerful currency for bands.
Having a well-made video can make or break a band's shot at blog coverage, a showcase spot or a chance to grow their audience on YouTube — the largest music-streaming platform by far. On the other hand, a lackluster video can also be the linchpin that keeps the aspiring rock star tied to waiting tables one more day.
Without access to the right tools, crafting that winning visual can be a daunting prospect for the broke but gifted songwriter. This is part of the reason that Brazilian filmmaking couple Diana Boccara and Leo Longo are traveling the world to help give bands that shot at YouTube glory. 
Read more: Watch the Winner of NPR's 2016 Tiny Desk Contest's Inspiring Submission Video
A year ago Wednesday, Boccara and Longo launched Around the World in 80 Music Videos, a DIY project in which they travel the world to shoot professional-grade one-shot videos. They've filmed with South Korean folk bands, Russian synth rock groups, Egyptian Middle Eastern-tinged rock outfits. Their pieces have been consistently breathtaking, and all have been made without the artist or the filmmakers being required to spend a cent on production. It's true DIY mentality at its finest.
"I always say that it's a very intense love story," Boccara said Wednesday during a Skype call, describing the experience. "Like, we meet, we have an amazing time together; it's like two amazing days with the bands or one amazing afternoon, and then we just go our separate ways."
Boccara was Skyping from Nashville, Tennessee, where the duo will be filming five videos over the ensuing month. It's a fitting locale to celebrate the project's one-year anniversary, as that's where they got their first flash of inspiration. Longo, who has worked as a television director with MTV, the History Channel and the National Geographic Channel, and Boccara, a producer in Brazil, took a road trip up to Nashville two years ago, where they fell in love with the city and its wide-ranging music scene.
When they returned to Brazil, they didn't want the adventure to end. "One day we just said, 'Let's do something that would take us around the world and would involve music, but through our eyes, as filmmakers,'" Boccara said. "The music video is perfect. There's no limits to creativity, and you collaborate to create something. We're not doing it all for ourselves, we're doing it for the bands. The heart of the project is really collaboration."
The couple don't spend any money on the videos, and don't ask bands to either. When asked to pick a video that best represents the project's goals, they pointed to their video with the artist Noiserv in Portugal. 
The video only uses two props: a chair Noiserv found in the trash and an old acoustic guitar. A stunning backdrop and some clever editing (detailed in a behind-the-scenes video) provide all the magic they need. 
Still, funding the project has been a hustle and a half. Boccara and Leo tried to find a corporate sponsor to fund the project, but continually came up empty-handed. They decided to start out by themselves, selling nearly everything they owned — car, apartment, bike and furniture to help pay for the project that they believed in.
Once they started to roll out some visuals under their belt, brands like HP, Smirnoff and Adidas came in to sponsor them financially and with free products. Swiss International Air Lines helped fly them to all their destinations in Europe, Russia, India and Egypt.
Boccara and Longo still don't have enough money to finish the trip; however, part of their weekly routine is emailing potential sponsors.
"We don't look for profit right now, we look for brands that believe in a unique project, a different way to create and communicate with the world and in two people that really believe in what they do," Boccara said. "We are two filmmakers on the road so we are basically are a itinerant production company that has the world as its headquarters. Anything is possible."