Amber Rose Disses Donald Trump, Praises Kim Kardashian West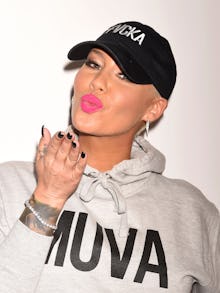 Slutwalk founder Amber Rose joins a growing list of celebrities and influencers that have spoken out against Republican presidential candidate Donald Trump's campaign. 
In a quick question and answer session with US Weekly and various reporters on Wednesday, the 32-year-old model said that she isn't even able to think about what America would look like under the leadership of the GOP frontrunner at the Amber Rose Takeover Event at Dave & Buster's in Hollywood. 
Read more: Amber Rose's New Emoji App MuvaMoji Trolls Bill Cosby, Kanye West Like Only Amber Rose Can
"Jesus Christ, I can't even think about it!" the Philadelphia-born feminist told US Weekly and other reporters who attended the event. "I'm moving, I'm out! I can't. And I am taking my son with me! I would be devastated, to be honest with you!"
Rose also brought up Kim Kardashian West, the wife of Rose's former lover, Kanye West. The two stars were at odds just this past year, but seem to have let the beef subside. 
When US Weekly asked the model-activist if Kardashian West would be interested in attending the Slutwalk, Rose replied: "I think she is! I think that it will be a great time. If she wants to tell her story, I think that would be awesome too."
Rose continued, "[I] think she has a really cool story to tell, so if she went on stage and told her story and really let people know she is human, and she was in love at one time and she made a mistake, and shit happens and it shouldn't be the rest of her life!"
Rose recently released her own new emoji app based around her features, titled MuvaMoji. While most of the emojis are of Rose, a "Free Kesha" emoji, a Bill Cosby emoji, and an emoji that might allude to Kanye West, are also included in the pack.