Is the Will Smith Movie 'Concussion' Based on a True Story? Here's the Real Deal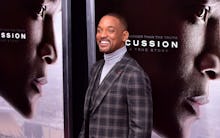 The 2015 film Concussion, which is nominated for an MTV Movie Award in the true story category, stars Will Smith as Dr. Bennet Omalu, a pathologist who becomes embroiled in a battle with the NFL after his research indicates that a football career can lead to lasting brain damage — but just how true is the story?
Read: Atlanta Falcons Coach Asked NFL Prospect Eli Apple, "Do You Like Men?" at Scouting Event
The real Omalu, a physician originally from Nigeria, began his research somewhat accidentally, when he was assigned to perform an autopsy on former NFL star Mike Webster, according to a 2009 GQ profile of Omalu that reportedly inspired the 2015 film. Webster had been a famous football player who, by the time his life ended at age 50, was "pissing in his own oven and squirting Super Glue on his rotting teeth," according to GQ. 
When Omalu examined Webster's brain, things appeared normal on the surface, but he had a suspicion that there was unseen damage. After getting permission to examine Webster's brain in depth, Omalu discovered something unnerving — a build-up of proteins, splattered around the brain and gunking up the works, seemed like they might have been the cause of Webster's erratic and dysfunctional behavior. And Omalu believed it was caused by a lifetime of repeated head injuries. He named the disease chronic traumatic encephalopathy, or CTE.
All of this makes it into the movie version, of course, which follows Smith-as-Omalu as he begins to investigate a pattern of CTE in football players and winds up bumping up against the NFL, which tries to bury Omalu's findings and discredit his work. 
The film also stars Alec Baldwin as Dr. Julian Bailes, the chairman of neurosurgery at West Virginia University Hospitals who teamed up with Omalu to support his CTE research. 
The real Bailes and Omalu fought to share their findings, despite the fact that the NFL not only refused to cooperate with their research but actively tried to isolate Omalu: When the NFL held a summit to discuss concussions in 2007, 300 doctors, scientists and trainers, both from within the NFL and outside of the organization, were invited to participate, reports GQ, but Omalu wasn't.
Despite the attempts by the NFL to dismiss Omalu, he was able to publish and advocate for his research, eventually forcing the league to begin to acknowledge the dangers of CTE and the risks that players face. But even though the movie has been made, Omalu's real-life work isn't over. 
"Anybody still denying the disease is out of his mind," Omalu told GQ in 2009. "The issue now is treatment. That is my next step, now that I understand the pathology."