Mississippi Senate Passes House Bill 1523, One of the "Most Sweeping" Anti-LGBTQ Bills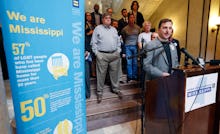 In Mississippi on Thursday,  the Senate voted 28-18 in favor of House Bill 1523, which protects the refusal of service to LGBTQ people by anyone, including religious organizations or businesses, if it conflicts with "'sincerely held' religious beliefs," according to Buzzfeed. 
Those beliefs include marriage being between a man and a woman and that gender refers to the genetics someone is born with, New York Magazine reported. The bill protects a multitude of services such as performing a marriage, servicing adoptions, renting properties or providing medical treatment. Establishments can also impose what bathrooms patrons can use and how they dress. 
Read more: The NBA Just Took a Stand Against North Carolina's Transphobic Legislation
Called the "Religious Liberty Accommodations Act," the bill is meant to protect others' rights from religious discrimination that occurs by the same-sex marriage ruling from the Supreme Court. "It takes no rights away from anyone," Senator Jennifer Branning said, according to New York Magazine. "It gives protection to those in the state who cannot in a good conscience provide services for a same-sex marriage." 
Critics are calling the bill one of the most sweeping anti-LGBTQ and discriminatory laws to have passed according to Buzzfeed. "They say it's about same-sex marriage," State Senator John Horhn told Buzzfeed. "If that's the case, why does it include adoptions? Then why does it allow discrimination in medical services? The reason we are so adamantly opposed to it is because we have already been there."
Others point out that a bill like this is too reminiscent of the state's history with racial segregation, according to Buzzfeed. "It basically sanctions religious discrimination," Erik Fleming, director of advocacy and policy for the ACLU of Mississippi, told Buzzfeed. 
Since a previous version of it was passed, the revised bill just needs a concurrence vote by the House, which will probably happen next week, and subsequently sent to the governor, Buzzfeed reported. 
This Senate passing comes just days after North Carolina passed House Bill 2, which forces transgender people to use restrooms of the gender that they were born with. 
h/t Buzzfeed