Jason Van Dyke, Who Killed Laquan McDonald, Just Got a New Job With a Chicago Police Union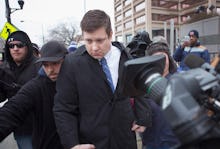 Some people can't get hired for work no matter how hard they try. Others can shoot a teenager 16 times, get charged with murder and still find a job within a matter of months.
File Jason Van Dyke in the latter category. The Associated Press reports the 29-year-old Chicago police officer got a job recently as a janitor for the Fraternal Order of Police Chicago — less than four months after being charged with murder in the killing of 17-year-old Laquan McDonald.
Union president Dean Angelo told the AP he would have done the same for any officer. Van Dyke was in a "very difficult situation, financially" at the time, Angelo explained, and was hired to do custodial work for the union near the beginning of March.
Van Dyke, of course, is not just "any officer." In October 2014, he was captured on police dashboard camera video firing 16 shots at McDonald, who died from his wounds. 
After more than a year of legal wrangling — and an alleged cover-up that went all the way up to the mayor's office — the footage was made public in November. The public backlash was fierce and immediate, and Van Dyke was finally charged with first-degree murder.
The video would go on to spark months of protest in Chicago, culminating with the firing of former police superintendent Garry McCarthy, the ousting at the polls of Anita Alvarez — the Cook County state's attorney who waited 400 days to charge Van Dyke — and a groundswell of antipathy against Chicago Mayor Rahm Emanuel.
Van Dyke has been keeping a low-profile ever since. But apparently, whatever personal deficiencies one can glean about a person who shoots a child 16 times were not enough to keep him from being hired by the union. Van Dyke pleaded not guilty and was released from custody on $1.5 million bond in November.
h/t The Root