School Sends 82% of Its Students to College, Even Though Half of Students Are Homeless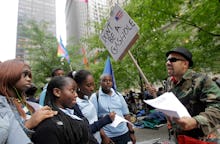 A school is working with some of the most economically disadvantaged students in New York City and sending them off to colleges at an astounding rate. Broome Street Academy, a charter high school that opened in 2011, has a student population of over 77% that fall under the category of economically disadvantaged, according to the Daily Beast. 
"Our admissions policy gives preference to siblings and students who are homeless, in foster care, or from low-performing schools," the overview of the school reads, on the official website.
Read more: Investigation Shows There Are More Officers Than Counselors in Biggest School Districts
A high school that does not charge tuition for its students, one of the most impressive facts about Broome Street Academy is that, in 2015, 82% of the school's first graduating students enrolled into college, in both two-year and four-year programs. 
"It's about breaking the cycle," Broome Street Academy administrator Barbara McKeon told the Daily Beast. "I wouldn't be here if I didn't think we couldn't make a difference. Am I going to change the world? No. But am I going to change individual worlds? I hope so."
Located in the SoHo neighborhood in Manhattan, each student that enrolls in Broome Street must receive an adult "champion," a staff member at the school, according to Inside Schools. 
Broome Street Academy works in collaboration with The Door, a New York City-based organization that offers at-risk youth programs and services to help them reach their full potential. The Door provides all students that walk into the doors of Broome Street "health, dental, and reproductive health care, in addition to mental health counseling, a wide variety of after-school activities, and three meals a day, all for free," according to the Daily Beast.
"You've got to make a school a place people want to come to," McKeon told Inside Schools. 
h/t: Daily Beast