Kylie Jenner Lip Kit: Reality Star Releases Confusing Commercial to Promote New Glosses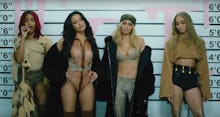 The Kardashians/Jenners are always finding new, elusive ways to rake in some cash. The most recent career pursuit for Kylie Jenner, the youngest of the modern-day Brady Bunch, involves her ever-changing lips. As of April 1, Kylie Cosmetics (the reality star's makeup brand) will feature several new additions to her Kylie Jenner Lip Kit. Jenner announced the new colors in a bizarre YouTube video titled "Glosses By Kylie Jenner." 
Though the mini film, directing by Colin Tilley, doesn't appear to have a developing plot line, cameras follow Jenner and her three "badass" girlfriends as they raid a house filled with money, trash the place and take off in a vintage car you can't afford. 
As her friends ransack the home for wads of cash, tossing a man out the window and placing a questionable emphasis on random acts of violence, Jenner appears bored, chewing gum and slouching in the front drivers seat.
The women then take off, tossing the money in the air (which seems logically hypocritical, but okay). As the girls hop in the car with Jenner, the words "Like," "Literally" and "So Cute" appear on the screen, likely revealing the new titles of Jenner's lip glosses. 
The women are then seen standing in a prison lineup in high-fashion clothing, with Jenner again appearing as if she doesn't even want to be there, promoting herself. 
Currently, all of Jenner's lip glosses are sold out on her site — as they typically are. So if you're interested in ordering up a new batch of Jenner lip glosses, be sure to check KylieCosmetics.com on Friday, early and often.