Up to 6 Shot at Bus Station in Richmond, Virginia; Shooter in Custody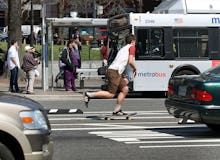 As many as six people were shot when a gunman opened fire at a Greyhound bus station in Richmond, Virginia. Fox News reports that the suspect was shot dead by state troopers. 
Virginia State Police Public Relations Manager Corinne Geller told WTVR that two Virginia state troopers and one female civilian were transported to a nearby hospital after the shooting. A law enforcement presence remains on the scene.
Richmond Police Chief Alfred Durham also confirmed to the station that at least two of the victims were in critical condition.
This story will be updated as more information becomes available.
Correction: March 31, 2016