Hedi Slimane Parts Ways With Saint Laurent, Leaving Enviable Cool in His Wake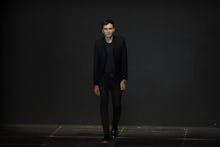 No, it's not an April Fools' Day trick. Hedi Slimane, the much-admired designer who transformed the legendary Saint Laurent label in recent years, is no longer the brand's head designer.
The announcement came Friday morning (yes, April 1) in a joint statement from Yves Saint Laurent and Kering, the luxury conglomerate that is its parent company. 
Read more: Christian Louboutin Adds Key Skin Tones to Its Inclusive "Nude" Shoe Collection
"What Yves Saint Laurent has achieved over the past four years represents a unique chapter in the history of the house" said François-Henri Pinault, chairman and CEO of Kering, in a statement. "I am very grateful to Hedi Slimane, and the whole Yves Saint Laurent team, for having set the path that the house has successfully embraced, and which will grant longevity to this legendary brand."
The departure itself isn't a total shock — it was public knowledge for months that Slimane's four-year contract was due to expire on March 31, and that he and Yves Saint Laurent hadn't reached a new agreement.
But the departure is still a big deal — and huge bummer — to the fashion fans who've come to know Slimane and the unmistakable aesthetic he brought to Saint Laurent since 2012.
The stark black and white ads, the skinny silhouettes, the effortless cool of his "models" (Courtney Love, Kim Gordon, Joni Mitchell, Beck, Marianne Faithfull), down to his decision to drop the "Yves" from the brand's name "Yves Saint Laurent" — all telegraphed a minimalist, insouciant cool that gave the decades-old label new life.
Which is why it's no shock that Hedi acolytes were more than a little disappointed on Friday morning:
Slimane can and will be replaced — after all, the eponymous Yves Saint Laurent founded the brand himself in the 1960s and has had three designers prior to Slimane. But the cooler-than-thou feel he brought to Saint Laurent, from the controversial spokesmodels to the effortlessly minimalist clothing, is a signature that Slimane will take with him to wherever he goes next.
Twitter — and the rest of the fashion world — will be watching.