Students Sue Donald Trump for Allegedly Inciting Violence at Louisville Rally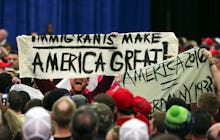 A trio of protesters who say they were assaulted during a Donald Trump campaign event in Kentucky on Super Tuesday are suing the candidate, accusing him of inciting his supporters to violence, according to WDRB.
Kashiya Nwanguma, 21, Molly Shah, 36, and Henry Brousseau, 17, say they were peacefully demonstrating at the Kentucky International Convention Center in Louisville on March 1 when the GOP presidential frontrunner called on his fans to "get them out of here."
Read more:
"Trump and his campaign did not try to stop the racial and ethnic slurs at the Louisville rally but 'selectively targeted the protestors for physical violence because of the content of their speech,' the lawsuit claims," reported WDRB.
"The Republican presidential hopeful and his campaign acted with 'gross negligence' and failed to provide proper security, allowing supporters to be responsible for ejecting 'peaceful protestors,' according to the suit," the station said.
The video of the incident showed Trump backers shoving and badgering Nwanguma:
According to the Louisville Courier-Journal, the suit filed Thursday argues, "protesters from every side of the political spectrum have been a regular feature in American politics, since time immemorial ... But one — Donald J. Trump — has decided to break with American tradition and the rule of law by inciting his supporters to physically attack protesters at his rallies and campaign appearances."
An alleged white supremacist and a Korean War veteran are also named in the lawsuit, in which the demonstrators are asking for unspecified damages.
Trump won the Kentucky GOP caucuses by four percentage points.