Jackie Robinson Will Finally Receive Long Overdue Apology From City of Philadelphia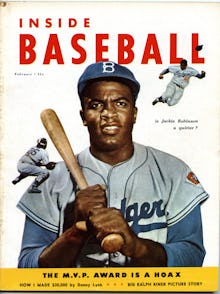 When Jackie Robinson landed in Philadelphia in 1947, he'd been a major league baseball player for just a few months. But the racism he endured there — as the first black player in MLB history — came to symbolize much of his early tenure in the league.
Now, the city is apologizing to him. On Thursday, the Philadelphia city council passed a unanimous resolution to apologize to the late legend, citing a local hotel's refusal to serve him and the racial taunts he endured from Philadelphia Phillies players and Ben Chapman, the team's manager from 1945-1948.
"Unfortunately in Philadelphia, Jackie Robinson experienced some of the most virulent racism and hate of his career," councilwoman Helen Gym told ABC News. "Our colleagues decided to introduce this resolution to celebrate Jackie Robinson."
Philadelphia, of course, has changed since 1947. In 1950, the black population stood at 375,000, but had risen to over 644,000 by 2010, with black residents comprising 42% of the city today. At the same time, Philadelphia's white population has plummeted in recent years. The city has seen three black mayors come and go since 1984.
But seven decades back, the hostility Robinson faced from whites there was so vicious it became a centerpiece of 42, the 2013 biopic about Robinson's life. Phillies manager Ben Chapman in particular — described in a New York Times essay as a "meanspirited, unreconstructed bigot," and portrayed in the film by Alan Tudyk — hurled so much vitriol Robinson's way the MLB worried about its public relations implications. 
The league eventually asked Robinson and Chapman to pose in a publicity photo together to show things were OK between them. But in reality, they weren't: The Phillies fired Chapman the next year, having grown tired of his antics.
Robinson died of a heart attack in 1972, at the relatively young age of 53. He is survived by his wife, Rachel, who will accept Philadelphia's official apology on behalf of her husband at a ceremony on April 15 — the anniversary of the day he debuted in the league.
h/t ABC News