This Single Murder Trial Tells the Story of Today's Unspoken Epidemic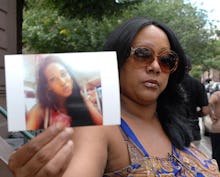 Facebook
You might not have heard of Islan Nettles, the 21-year-old aspiring fashion designer who was brutally beaten and killed in New York City in 2013. 
She was transgender. And her story is bigger than she is. 
Here's the deal: She was walking outside with her friends in Harlem, a neighborhood in Manhattan. James Dixon, who was 24 at the time, hit her so hard that she fell, suffered a brain injury, and ultimately died.
On Thursday (yesterday), Dixon's trial began. He provided two different versions of what happened that night. He is pleading not guilty.
Pictured is Nettles, and her mom. 
She worked at H&M.
And was a designer at a Harlem fashion house.
She was beating the odds. Her life was cut short.
Her murder is a microcosm of a huge issue.
More than 25 trans women of color have been killed since 2013. 
Some call it an "epidemic."
Justice for Nettles is crucial.
Trans people everywhere deserve justice.
It could be the civil rights battle of our time.