Watch Bill Murray and Neel Sethi Sing 'The Jungle Book's Best Song on 'Jimmy Kimmel Live'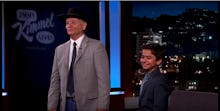 Sure, he isn't the first bear to grab the spotlight this year thanks to The Revenant, but Bill Murray's Baloo the bear looks to be in fine form as well. Appearing in human form alongside co-star Neel Sethi — who plays Mowgli in the upcoming Jungle Book remake — on Jimmy Kimmel Live! the duo performed their own version of Baloo's trademark song, "The Bare Necessities." 
While they were initially hesitant to perform, with Murray saying the two hadn't rehearsed at all, they launched into it with relative ease. Halfway through, a couple of bears sneak through as extras — though nobody is attacked à la Leonardo DiCaprio. 
Check out the video from Thursday's late night show below. The Jungle Book is out in theaters April 15.
Read more: Movies Coming Out in April 2016, From 'The Jungle Book' to 'Keanu'