Google's "Mic Drop" April Fools' Prank Allegedly Got Some Unlucky People Fired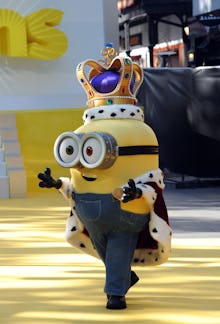 A royal Minion dropping a mic in your Gmail inbox is the last thing you see before you get fired. 
That was the case for Allan Pashby, who fell victim to Google's April Fools' Day prank this year: Mic Drop, which lets you reply to an email using a button that mutes the conversation on your end and spits out one of those ubiquitous smug yellow creatures on the receiving line.
The feature took a swift boomerang when users mistakenly enabled the feature and, allegedly, missed important email responses. Take Allan Pashby's case, which he described on the Gmail help forum:
"Thanks to Mic Drop, I just lost my job. I am a writer and had a deadline to meet. I sent my articles to my boss and never heard back from her. I inadvertently sent the email using the 'Mic Drop' send button. There were corrections that needed to be made on my articles and I never received her replies. My boss took offense to the Mic Drop animation and assumed that I didn't reply to her because I thought her input was petty (hence the Mic Drop). I just woke up to a very angry voicemail from her which is how I found out about this 'hilarious' prank." 
But the damage was done. 
"Thanks to Mic Drop I just lost my job."
The forum is flooded with users who found the prank to be a gateway to unemployment or who unwittingly attached a Minion mic drop in an email with a professional or serious tone. 
Faye Davies, another alleged Gmail victim, wrote:
"I doubt anyone at Google will read this — but well done today — I send a legal document which affects mine and my family's life and you stick that button in the place of a send button. You obviously need to understand people use your email system for real life. Grow up."
The flaw here isn't the feature itself or its position right next to the normal send button. There's also a bug.
"Well, it looks like we pranked ourselves this year," Google Community Manager Crystal Cee responded in the forum.
"Due to a bug," Cee wrote, "the Mic Drop feature inadvertently caused more headaches than laughs. We're truly sorry. The feature has been turned off. If you are still seeing it, please reload your Gmail page."
The bug that backfired: Spotted by co-founder of Panic Inc. Cabel Sasser and confirmed by web developer Andy Baio, the glitch can still send the Mic Drop even when you hit the normal send button:
Yikes. 
Mic Drop has since been disabled and Google has apologized, but next April Fools' Day, before you start brainstorming your best prank yet, ask yourself: Where is Allan Pashby now?