Watch Taylor Swift Fall Down Trying to Rap Drake and Future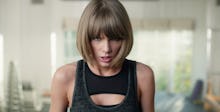 Fact: Taylor Swift is a rap stan.
She's said time and time again how she listens to Lil Wayne and Kendrick Lamar to get pumped up. She's shared video of what that looks like. 
In a new advertisement for Apple Music, Taylor throws on a running activity playlist filled with Drake and Future, 2 Chainz and her best nemesis Kanye West. She starts rapping Drake and Future's "Jumpman," but barely gets through the first verse before she does something else Taylor Swift does best: She falls down.
At this point, it's easy to forget, but before Taylor Swift became the premiere empire-builder in pop, her brand was the adorably clumsy girl next door. It seems that Swift is still in there.
Love or hate Swift, the ad is a joy — as is the fact it announces another free three-month trial of the service. Love her and you laugh with her. Hate her and these 59 seconds offer some of the best schadenfreude around.