Google's "Hilarious" April Fools' Day Prank Is the Google Cardboard Plastic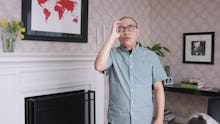 Happy April Fools' Day, y'all! April 1 is the day when huge companies show us how "fun" and "chill" they are by pulling some "funny" pranks on us, the unsuspecting public — and this year is no exception. One of Google's pranks was the fake rollout of Google Cardboard Plastic, a "headset for actual reality," aka plastic goggles.
Read more: April Fools! John Stamos Just Hijacked Your Netflix Account
The headset even has a sleek website and a video announcement, which advertises the features of Google Cardboard Plastic, including compatibility with all apps, an analog clock (if you're wearing a watch) and a lightweight design. According to the website, the headset "lets you see things the way you truly see them." Literally.
The video is actually a pretty funny send-up of how tech companies can make their new products look awesome no matter what they actually are. At the very least, it's gone over better than Google's Gmail prank, which led to people accidentally putting Minions GIFs into their important work emails. Anyways, happy pranking everyone, and stay safe out there.